Illegal business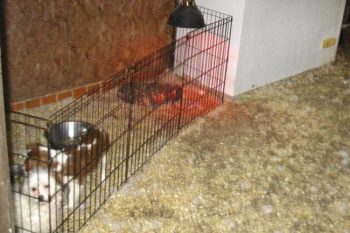 Puppies were being sold for between £350 and £450 each, the RSPCA said, including:
pugs
bichon frises
cockapoos
shih-tzus
Chihuahuas
In one stable, officers also found a whiteboard with instructions for the daily care of the dogs, including: "Keep puppies quiet, do not let them bark. Squirt them or use whip to crack in yard [sic]."
Evidence found
The court heard paperwork and receipts found at the farm tied Kerr to sales of the puppies, while 17 mobile phones removed and analysed uncovered text messages from some of the unsuspecting buyers who had contacted the RSPCA after their puppies had, in many cases, died days or even hours after arriving home.
On 16 February, Kerr was found guilty of six counts of causing unnecessary suffering to dogs and three offences of failing to meet the needs of a number of dogs.
He has stated he intends to appeal against both his sentence and conviction.